ePay Payroll Suite Modules
I. SETUP:
ePay features excellent flexibility without complicating the setup process. Client Setup consists of a few easy steps, outlined below:
Home Portal
Company Setup: Company setup allows for unlimited divisions, departments, state ID's Workers' Compensation Codes, three period set dates, and company-wide scheduled pays, deductions, and exemptions. Companies can also have unlimited bank accounts while divisions can be printed separately for easily distributed delivery.
Employee Setup: With a consistent look and feel across all ePay Modules, the Employee Setup module gives you complete access to pertinent data for every employee.
Taxes: Federal, state, and local tax status setup is easy to configure. When you select a state, you get detailed instructions on how to set that particular state up and what data is needed.
Scheduled Pays and Deductions: Unlimited scheduled pays and deductions are available for each employee. Deductions can be based on Flat Amounts, Credit to Net, Hours Paid, Hours Worked, % of Gross, % of Net, or % of Worked. Each deduction can also have limits declining loan balance tracking, and automatically generated third party deduction checks.
Human Resources: Employee HR data includes logistics and statistic information, raise history, new hire status, dates (start, term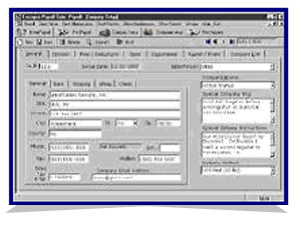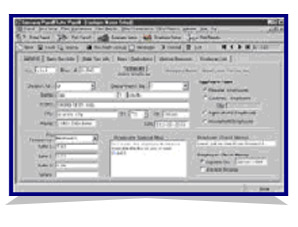 II. COMPANY OPTIONS:
The Company Options module allows you to set up your clients' payrolls to be customized packages that meet their specific needs and desires. Standard two-day turnaround or expedited FedWire options are available. Direct Deposits can be split by flat or percentage amounts into five different accounts and still print a check for any amounts left over.
The following features are available in the Company Options module:
Report sort order
Check layout options
Payroll report options
Monthly reports selection
Automatic tax filing
EFTP's, Tax Checks, Tax Notices.
III. PAYROLL ENTRY:
The Check Entry screen is designed for simple ease of use. All objects can be navigated with either the mouse or just the keyboard. All information needed to process payrolls for your clients is easily accessible.
Payroll Information Available:
Pay/Deduction codes and descriptions
Available departments and rates for that employee
Employee setup information
All payment, deductions, and taxes totals for each employee
Text fields for detailed special instructions
Tax calculations and breakdowns.
Special Features
Instant gross-up calculations
One button check void
Instant tax calculations
Configuration of check options (DD status, W/H and UCI states,
and pay frequency)
Division and department look-up
Tip wage and 8.0% calculations.
Unlimited Options
Unlimited pays, deductions and taxes
Unlimited checks per employee
Unlimited scheduled pays and deductions
Multiple period set dates within the same payroll.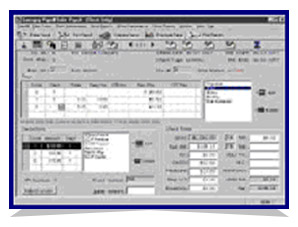 IV. PRINT PAYROLL:
This is your payroll-processing engine. When you are ready to print payrolls, this module searches for all payrolls that need to be printed. Then with a single click, each payroll you have selected prints a custom payroll package for each client based on what options you have setup for that client. Reports are automatically separated based on whether they require an MICR printer or not.